Home »
Blog »
The Technology Behind A Live Casino
The Technology Behind A Live Casino
Live casino represents what happens in traditional casino places. They offer a much higher payback percentage to players, almost equal to that offered at brick and mortar casinos. These casinos have become popular in the gaming industry globally because they make use of modern technology software like Amaya Gaming, Playtech, Realtime Gaming, and Microgaming. The main interesting bit about live casinos is that they are run by a human dealer in real time. This enables players to participate in the game through a console on their computers and also get assistance through live chats. A lot of investment is required for such casinos to hold live games. They require at least a cameraman, an I.T manager, croupiers, and a pit boss. These huge human investments limit the number of games a casino can offer to mostly four namely, baccarat, roulette, sic bo, and blackjack.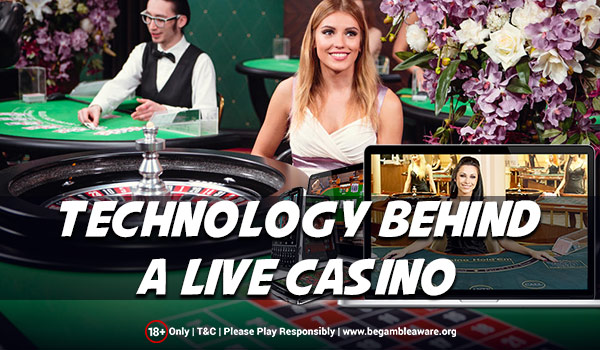 Rooms and key components of a live casino
A live casino mainly has three rooms namely an analyst room, a design room, and the live studio room. These three rooms can however not be complete without the major equipment. Such components include:
Cameras: these help in successfully streaming live games and most recently live feeds with the development of recent technology. A good example is in the roulette game which has three separate cameras for an overview of each roulette table. The first camera is for the shots on the table, the second is for the wheel and the last is for the picture in picture display.
Wheels: they feature depending on the game. Casinos mainly deal with massive casino configurations. Generally, wheels have built-in sensors that interface with casino software.
Dealers: Casino owners ensure dealers are fully trained and conversant with all the rules that govern the game as these are the games handlers. They play an important role by ensuring that players don't notice any difference between traditional casino games and the online format. Dealer's actions can now be tracked using smart cards thanks to the latest technology developments.
Game control unit: no live casino is complete without this vital component, not one.  Its' sole use is to program broadcasted videos and is attached to every table. It is also the tool that helps the dealer to run the game and its size is smaller than that of a shoebox.
Monitor: this is another very important component for any live casino. It helps the dealer take the necessary action during the game. It also enables him/her to track bets that can be placed or otherwise closed. They also show dealers the players who are online. They also show what online players view on their screens. This enables matters arising to be promptly solved by players and dealers engaging in live chats.
Recognition of optical camera technology in live casinos
This is among the latest technological developments to be integrated into the live casino industry and is able to record the smallest detail in the gaming room. It then streams that information to players via video links. Another use of this technology is its ability to electronically transform everything into useful data by capturing shuffling of cards, wheel spinning, and hands distribution. These live dealer casino capabilities are similar to what is available in brick and mortar casinos.
Places where most studios are based
Getting the ideal place to play a live dealer casino is very important for any gambler. These studios are slowly coming up. In the US for example, there are currently three states namely Nevada, New Jersey, and Delaware. Other regions with live dealer casinos include Europe and Asia.
Fantastic live casino experience at Chelsea Palace
Chelsea Palace offers an exclusive experience for live games topped with exciting offers. Pick any game of your choice and experience casino like never before!
Blog Summary
Blog Name: The Technology Behind A Live Casino
Posted On: 11/03/2019
Author: Robert Bowron