Home »
Blog »
What makes Reel slots different from Video slots?
What makes Reel slots different from Video slots?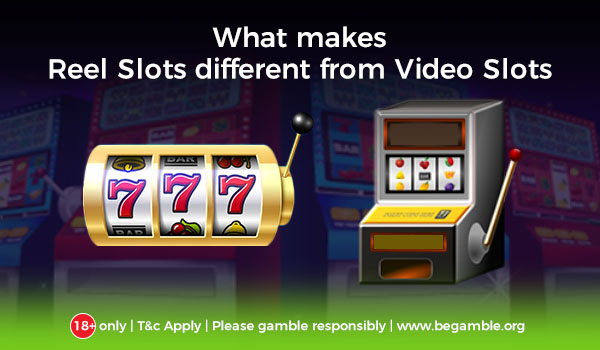 The argument never ends when it comes to determining the best types of online slot games. Every slot player may possess their own favourite slot games on which they tend to spend countless amount of time. Leaving aside the differences, both varieties of slots can assure you the quality entertainment and other beneficial factors.
Video slots are the most sought after games in live casinos today and their internet equivalents draw millions of players to online casinos. But there is no denying that the slots with mechanical reels still boasts a huge fan following. The gaming experience will vary depending on the format of the game.
Payline options
You will notice that video slots offer more exciting payline options than a classic reel slot. The majority of classic slots offer just one payline spread over three reels, however, hardly you will find some three-reel slots offering more than one payline options. The newfangled video slots which are now popular in all online casinos utilizing the gaming platforms from the industry leaders, offer you a selection of all ways paying structures. This lets you play hundreds or even thousands of paylines per spin for one modest stake level.
Difficulty level
Video slots may be visually stunning but reel slots are probably just a little bit easier on the player especially for a rookie. With a reel machine, you just pump in your coins, put your fingers on the big red button or pull down that lever to put the wheels in motion. Also, it is easier for many players to determine if they were victorious as these machines only have three reels and normally only one line that pays out. On the contrary, video slots are a bit elusive as most of them have five reels and can have extensive paylines. It can be quite confusing to assess what really is going on.
Jackpot values
Whatever the type of slots you choose between video slots and reel slots, there is not much difference in offering progressive jackpots. So, with regards to the jackpot values, you could surely win when playing either type of slot games. However, many slot games will only provide you with a chance of winning a progressive jackpot only when you place maximum stake wager or activate all paylines. If you are willing to play a progressive video or classic slot game, always read through the rules and pay tables found attached to the slots.
Bonus games
You may discover that bonus games are more readily available on video slot games as classic reel slots are not readily designed for bonus game feature rounds. However, there are plenty of bonus game awarding reel slots but the usual way in which the bonus games play out on these kinds of slots are very fundamental and are a simple wheel spinning bonus game feature. If you are hooked to the sheer excitement and winning potential offered on bonus game rounds and bonus game features, then the video slot games will do wonders.
Presence of themes and imagery
The marked difference between these two types of slots lies in their theme and imagery. Most classic reel slots tend to be lacking a theme instead offering the classic slot symbols such as bars, bells, sevens, and fruit as imagery. Many video slots may contain the high-playing card icons as their symbols but they also hold a range of symbols which are more thematic in nature.
Special features
There will be a significant void in reel slots when it comes to boasting some special features and icons. Although wilds or multipliers may appear in a handful of reel slots, these symbols are generally reserved for video slots. Scatter symbols, free spin coins and bonus round symbols are almost exclusively reserved for video slots.
Payout percentages
There is a huge variation between the reel and video slots in offering payout percentages. So, it is generally advisable to allocate the necessary time to research which are the better-paying slots that boast the highest payout percentages at the casino site you are playing at. You will find both high and low payout percentages attached to the video and classic slots. But shrewd players look for the highest payout percentages attached to each slot and play only those slot games to assure they have a fair gaming session.
New game releases
It has been quite a number of years now since we found a new reel slot game being released online by any of the eminent online casino game designers and software companies. But there is a constant flow of brand new video slot games being released and going live on all major casino software platforms. So, video slot games will be your premier choice if you expect unique bonus games and features.
Conclusion
Ultimately, the choice is yours and the type of slots can only be chosen based on personal preferences. Anyhow, the reality is you may certainly bring the more lively and engaging game time on your selected casino irrespective of the type of slots.
Blog Summary
Blog Name: What makes Reel slots different from Video slots?
Posted On: 13/12/2019
Author: Robert Bowron