European Blackjack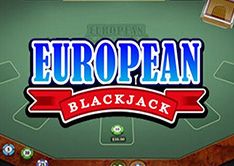 Unlike most other casino games that depend on blind chance, Blackjack is mostly a game of pure skill and with the right strategy, you can get very optimum returns on investment for players. Now, Microgaming has released an online casino game by the name of European Blackjack that lets players play to their heart's content anytime, anywhere. It has all to be expected, but it is worth your time and trouble?
Do read on and find out.
Times Flies When You Play European Blackjack!
Two decks containing fifty-two cards are employed in the European Blackjack. This is to discourage players from trying to gain an unfair advantage by counting cards, but with online play being so random, the chances of such happening is totally astronomical.
The aim in the European Blackjack game and most other Blackjack variants is simple enough- to get a hand that's bigger than that held by the dealer, without however exceeding 21. Should the hands be tied, a "push" is announced and the stake given back to players. For a Blackjack, the payout is set at 3/2.
Gameplay here is pretty simple.
To begin, the chip level is determined using the "+" and "-" buttons positioned underneath the screen. Then by clicking on the "Deal" button, players get a couple of cards, and the dealer gets just one. Depending on the value of the cards received and the mood of the player, he/she can opt to perform the following actions:
Hit– that is, ask the dealer for another card.
Stand– that is, keep the cards that have been dealt in the hope that the dealer has an inferior hand.
Split– if the player has two cards that are of equal value, he/she can opt to split them. They can then be played as two distinct hands.
Double Down– here, players can double their bet, provided that their two initial cards have total values of from 9 to 11. No Ace must be present in such cards unless the Ace's value is 1.
If the dealer has a first card that is an Ace, players can opt to insure themselves. Insurance costs half the bet amount and pays off at 2/1 was the dealer to get a Blackjack.
To Sum Up
The European Blackjack game has lots going for it, looks quite well, offers a nice array of features and is very much worth exploring.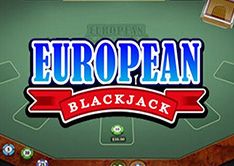 New Customers only, First 3 deposits only, Min deposit £10. Max bonus £850 + 50 Spins on Starburst. Selected Slots Only, 4x conversion 40x wagering T's&C's apply.